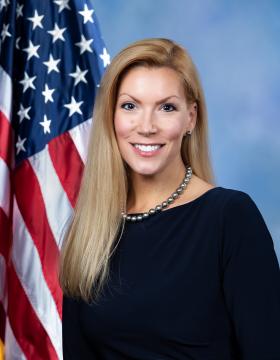 Congresswoman Beth Van Duyne proudly represents the 24th Congressional District of Texas, which includes portions of Dallas and Tarrant counties. Cities which are wholly, or partially included in the 24th District include: Addison, Bedford, Carrollton, Colleyville, Coppell, Dallas, Euless, Farmers Branch, Flower Mound, Fort Worth, Grapevine, Haltom City, Hurst, Irving, Keller, Lewisville, North Richland Hills, Richardson, Roanoke, Southlake, Trophy Club, Watauga, and Westlake. The DFW International Airport, of which Beth is former board member, is centrally located in the heart of the district.
Now in her 2nd term, Beth was selected to serve on the powerful House Ways and Means Committee which is responsible for initiating tax and financial policies. Assigned to the Taxation and Oversight Subcommittees, Beth is focused on delivering solutions to help individuals keep more of what they earn, businesses to expand operations and compete in globally competitive markets, and hold Administration policies and management accountable for actions which are detrimental to U.S. economic expansion or growing prosperity for our families. As a Texan, Beth is particularly interested in fostering policies that will empower our country with an abundant, affordable, and reliable energy supply to lower costs for families and deliver the power needed for our nation to enjoy an expansion of U.S. based manufacturing.
Beth was also chosen to serve as Chair of the House Small Business Subcommittee on Oversight where she concentrates on policies to encourage workforce development, labor participation, and reviews Administration actions directly related to the health and well-being of American small businesses.
Prior to being elected to Congress, Beth served as Regional Administrator for the U.S. Department of Housing and Urban Development (HUD), Mayor of Irving, Irving City Council Member, and a businesswoman. In 2017, Beth was appointed to serve as the Regional Administrator for the U.S. Department of Housing and Urban Development's Southwest Region. Working under Secretary Ben Carson, Beth was tasked with overseeing HUD programs and operations in the Region's five states of Arkansas, Louisiana, New Mexico, Oklahoma and Texas, where she worked on many of the Trump Administration's proudest economic successes, such as opportunity zones, and led HUD's disaster recovery efforts at the southwest border in the aftermath of Hurricane Harvey.
Before being named Administrator, Beth was the first woman elected to serve as the Mayor of Irving from 2011 to 2017 after beginning her career in public service as an Irving City Council Representative from 2004 to 2010. Under her leadership, the City of Irving witnessed unprecedented economic growth and development with an added 40,000 jobs and an estimated $3 billion in growth and new developments while also being named the fifth safest city in America.
Throughout Beth's career, she has worked with small startup companies, mid-size private companies and Fortune 500 corporations alike. Beth also ran a consulting business where she helped executives develop strategic business plans as well as negotiation strategies, grassroots coalition building and federal and state legislative policy strategies.
After graduating magna cum laude from Cornell University, Beth moved back to Irving, Texas, which has been her home for over 30 years. Proud mother to Katie and Pearce, Beth was only the second Republican woman from Texas to be elected to the U.S. House of Representatives.